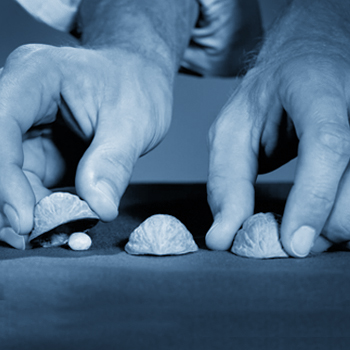 The history of the development of the unsustainable human community is not a chronicle of failure but rather a series of "bad choices." We begin this essay in what might seem to be a state of illogical confusion but continue to hold on with the pedal to the metal—it will be worth your while—and worth burning a little rubber in your brain.
Once humanity chose P-B as its narrative, every human institution and every human endeavor was infected with false-self behaviors. The beliefs, attitudes and values among both individuals and collectives and what behavioral psychology calls "operant conditioning" rendered humanity unconscious.
The "bad choices" in question can still be rectified by both individuals and collectives including the global village buuuuut not in the way we might think. Those choices probably cannot be tweeked or modified or made better by becoming "good" boys and girls but in most cases they will have to be radically different choices—transcendent choices. Let's use for our example an old and venerated institution in the West, the Roman Catholic Church, and let it represent religion in general. Don't forget—we are presented with choices each and every day and it's never too late to change direction—but that direction must involve divergent thinking, something we are not used to.
Why do we need religion in the first place? As we start to answer that question we begin to see the rationale behind one of humanity's first "bad choices."
Those of us who subscribe to the principles of Simple Reality know that there is a deep psychological need to create a story in our craving for security. "A cosmos without known cause or fate is an intellectual prison; we long to believe that the great drama has a just author and a noble end."  Religion provides a foundation for a context that satisfies the human yearning for a "just author" or creator who is "fair" (even if in some religious myths, a tad judgmental) and also an end without anxiety—paradise.
By choosing P-B and the institution of religion that often comes with that choice, we have chosen an identity that leaves us powerless and forces us to engage in fear-driven and desperate delusional fantasies that the feverish human mind is adept at imagining. "The great majority of mankind feel[s] compelled to ascribe mysterious entities or events to supernatural beings raised above 'natural laws.' Religion has been the worship of supernatural beings—their propitiation, solicitation, or adoration."  In this childish rejection of maturity humankind began the "soap opera" that has become our history, a melodramatic decline into a darkening paradigm of impotence and despair.
What about the growth of the human intellect or technological progress? Perhaps that will save us from our immature dependence on religion. "Science gives man ever greater powers but ever less significance; it improves his tools and neglects his purposes; it is silent on ultimate origins, values, and aims; it gives life and history no meaning or worth that is not cancelled by death or omnivorous time."
Whatever we imagined the benefits of science or religion might be, the human false self has been in charge of what actually happened throughout our history. For example, the temptation of power would be only one influence corrupting the ideals of the Church. "The Church forgot the poverty of the Apostles in the needs and expenses of power … Aeneas Sylvius, before becoming pope, wrote that everything was for sale in Rome."
In choosing duality as our context, giving the false self a perfect playground, the fate of humanity was sealed. Despite attempts to reform the Church, the narrative that determined human identity had an overwhelming influence on human behavior. "The monasteries tried again and again to restore their austere rules, but the constitution of man [his false-self identity] rewrote all constitutions."  Even Buddhists driven by the twin motivators of craving (power) and aversion (fear) have recently resorted to self-destructive behavior in Myanmar.
To book passage on a religious vessel will not take humanity where it wants and needs to go. All religious institutions are inherently leaky vessels. The Church, even after the Reformation, remained a flawed narrative that had every reason to keep the faithful in the dark where they were easier to fleece, deceive and abuse.
The youngest American religion is a case in point that all religions engage in lies, denial and secrets. Even though the "ship" of the Mormon Church is leaking like a sieve, it takes on about one million members every three years and currently (2013) has a worldwide membership of 13 million. Self-delusion is one behavioral trait that explains why when faced with a listing and sinking ship that passengers pretend all is OK. "I was just in a bubble and we felt so happy."
The "happy" Hans Mattsson was an overseer for the Church of Jesus Christ of Latter-Day Saints throughout Europe. When logic can penetrate the smoke and mirrors that religion is so adept at manipulating, reality sometimes disturbs the rational mind. "But when he discovered credible evidence that the church's founder, Joseph Smith, was a polygamist, and that the Book of Mormon and other scriptures were rife with historical anomalies, Mr. Mattsson said he felt the foundation on which he had built his life begin to crumble."
Remember denial? When someone suggests the ship has a hole in it and water is pouring in and believers think they are on the only vessel that can deliver them to paradise, they get very creative at rationalizing why their ship won't sink. Nevertheless, some find their way to the lifeboats and abandon ship. "A survey of more than 3,300 Mormon disbelievers, released in 2012, found that more than half of the men and four in ten of the women had served in leadership positions."
Religion works best if the church communities are closed to influences from outside the community, that way doubt is more easily kept at bay, community secrets are more easily kept and the temptation to tell lies does not raise its ugly head as often.
Family relationships can be adversely affected by community members like the Mattssons who begin to ask awkward questions. When the Mattssons recently moved to Spain for health reasons, "They left behind some family members unhappy with Mr. Mattsson's decision to grant interviews to The New York Times and to the 'Mormon Stories' podcast."
"I don't want to hurt the church," Mr. Mattsson said. "I just want the truth."  Unfortunately for Mr. Mattson and the rest of humanity searching for truth within a religious narrative, the truth is one of the first "passengers" tossed overboard along with healthy, sustainable beliefs, attitudes and values. Those who chose not to continue their voyage on the Mormon vessel and abandoned ship might have made a "good choice."
The insight that we live in a friendly universe would make a good choice not only possible but the option of bad choices would disappear. In the meantime, no "Reformation" or "short-cuts;" no changing vehicles or modes of travel; no reckoning by sophisticated technology or fervent prayer can keep our global vessel from sinking. One act alone, the "good choice" of distinguishing illusion from Reality will suffice.
The Implicate Order in the narrative of Simple Reality posits a creative process without end, beyond time and space, with heartfelt Perfection as the "always-at-hand experience" for those who find the courage to choose to awaken from P-B. Anxiety and "noble ends," craving and aversion, the pursuit of plenty, pleasure and power are poor justification for bad choices. The listing ship on which humanity sails will not be "righted" without the jettisoning of religion. All that canvas stored on our nuclear powered ship is an irrational clinging to past conditioning. We no longer need depend on the wind of illusion.
___________________________________________________________
References and notes are available for this essay.
Find a much more in-depth discussion in the Simple Reality books:
Where Am I?  Story – The First Great Question
Who Am I?  Identity – The Second Great Question
Why Am I Here?  Behavior – The Third Great Question