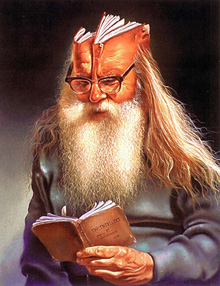 Even our most celebrated "brainiacs" labor under the spell of the intellect and thus enchanted, they become delusional. We are all mesmerized by the intellect which is all but worshipped in P-B. As a consequence, the errors related to the narrative, the identity and the behaviors of humanity are pervasive. We live in a world where we constantly experience things going belly-up, topsy-turvey, upside-down. For example, the ancient Romans used their temples as their banks whereas for us post-moderns our banks are our temples.
In this essay we are quoting from two articles, one by the Dutch author Tijn Touber, and the other, a Q&A, with Touber responding to the interviewer Max Christern. Both quotes are Touber speaking. As charming as Touber is with his worldview he is definitely bewitched by his mesmerized mind.
"Since "flower power" in the 1960's and the New Age movement that followed, we've been awash in techniques and insights that purport to help us achieve a higher state of consciousness. Spirituality and enlightenment have gone mainstream." Glad to hear that in The Netherlands this has been happening with Touber and his fellow Dutch community members because in the good ole U. S. of A we are experiencing precious little spirituality and enlightenment. Maybe we are under-utilizing our intellects. You think!
Nevertheless, "In the U.S., 30 percent of people say they consciously pursue enlightenment through self-help means such as meditation and yoga. Many compile [synthesize?] personal "religions" from various Eastern and Western philosophical traditions."
I'm all for the process of synthesis, after all that's what Simple Reality is, but what is synthesized must be from profound sources and intuitive experiences, and "philosophical traditions" do not offer that.  They are primarily expressions of the intellect, and yes, by that I mean expressions of the false self.
______________________________________________________________
References and notes are available for this essay.
Find a much more in-depth discussion in books by Roy Charles Henry:
Where Am I?  The First Great Question Concerning the Nature of Reality
Simple Reality: The Key to Serenity and Survival